Who doesn't like cake? This is the comment that most people are asked about their preference towards cakes, and usually, people would name black forest cake or perhaps truffle cake as their favorite but have you ever tries something like a gulab jamun cake?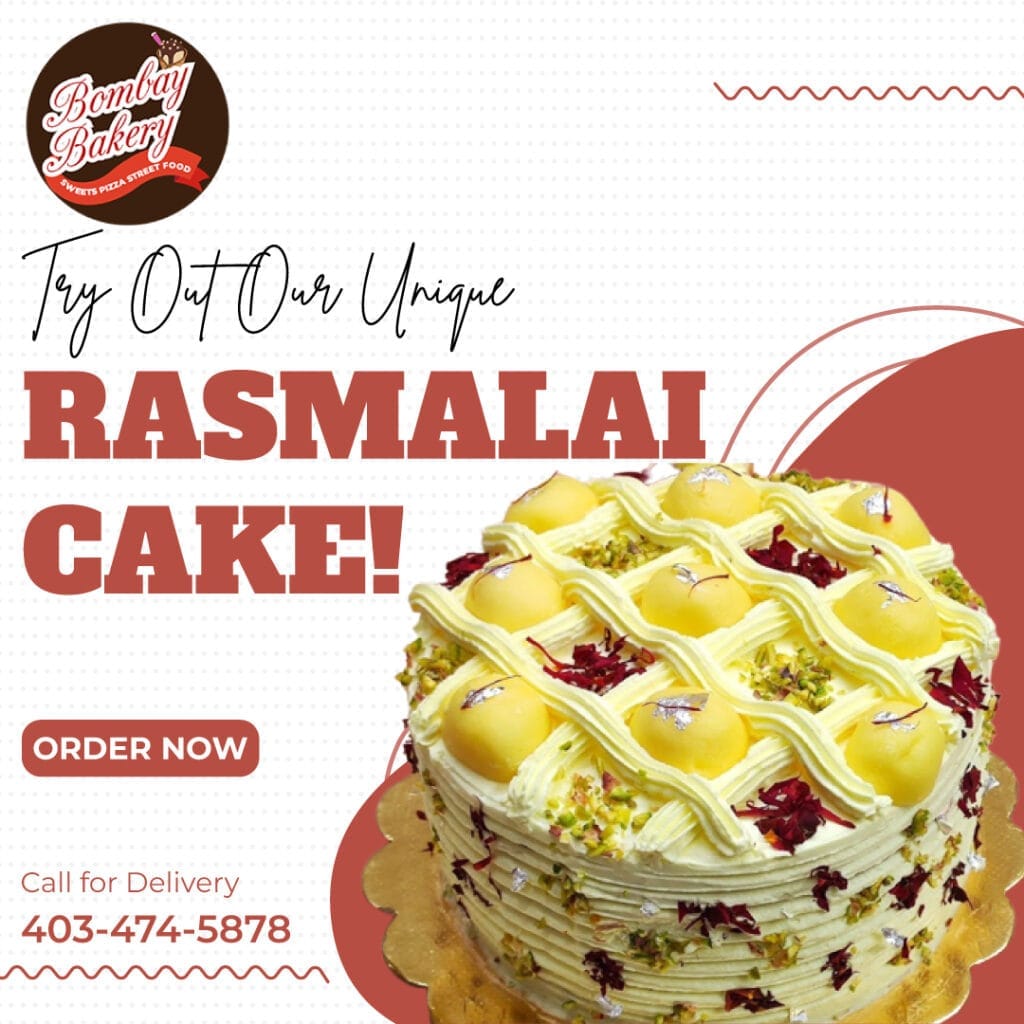 Probably not because such unique fusions can be made only by the best bakery in Calgary. Well, come. Take a look at 5 unique cakes with an Indian twist of flavors, redefining baking skills through these.
1. Gulab Jamun Cake
By the name itself, it is apparent that this cake is inspired by gulab jamun, one of the finest Indian desserts of all time. This Gulab Jamun Cake will truly knock you off your feet. This egg-free fusion is moist, sweet, light, and fluffy. Gulab Jamun Cake is ideal for making any event memorable. This is a rabdi-flavored cake, with even light and fluffy layers of cake with soft crumbs drenched in rose and saffron-scented sugar syrup, layered with the smoothest cloud-like whipped cream frosting sandwiched with bits and pieces of soft gulab jamun that literally melts in your mouth and then dressed up in the most amazing silky smooth whipped cream frosting.
2. Kesar Badam Cake
Enjoy every festive spin on a classic flavor with the super tasty Kesar Badam. Made with premium saffron, the best almond sponger available, and three types of milk: whole milk, condensed milk, and evaporated milk. It also features layers of almond and pista with superior cream, all topped with saffron truffle (no artificial color add). Celebrate the way it should be.
3. Ras Malai Cake
Rasmalai cake is a tasty fusion treat that is completely perfect for any celebration you can think of. It blends the tastes of the Indian delicacy Rasmalai in a cake shape, making it completely delicious! Eggless, simple, and wonderful! For special occasions, ras malai cake has replaced desserts as our new favorite sweet. Rasmalai is a classic Indian dessert composed of soft, melt-in-your-mouth flattened paneer balls soaked in thickened sweetened milk scented with cardamom, saffron, and almonds. It is an eggless sponge cake that has been soaked in ras malai milk (ras or syrup), topped with ras malai flavored whipped cream, and adorned with almonds and rose petals.
4. Kaju Cake
Kaju is a Hindi word that translates as cashew in English. This suggests that the cake is mostly composed of nuts, notably cashew nuts. There are many healthful components in it, such as protein-packed eggs, heart-healthy fats from cashews, vitamin-packed almond milk, fiber-loaded old-fashioned oats, anti-inflammatory spices (cinnamon), and calcium-rich butter. This cake also has a minimal sugar content, especially when compared to other cakes that call for 2 or more cups of sugar!
5. Pista Or Pistachio Cake
This finally is a pistachio cake with true pistachio flavor! Pistachio cake prepared with genuine pistachios and topped with pistachio Italian meringue buttercream! This pistachio layer cake uses real pistachios! Pistachio paste and chopped pistachios are baked into the fluffy pistachio sponge cake. Then the pistachio Italian Meringue Buttercream ensures that every bite has numerous degrees of pistachio yumminess.
Craving for a slice of cake? Now that you know the fresh new arrivals in the cake family, why to wait? Try them now at the best bakery in Calgary.